WPSSO Core
Advanced Meta Tags and Schema Markup for Facebook, Pinterest, SEO and More
| | |
| --- | --- |
| Plugin Name | WPSSO Core [Main Plugin] |
| Summary | Easy, complete, accurate, and automatic - give social sites and search engines better information about your content, business and authors. |
| Stable Version | 4.10.0 |
| Requires At Least | WordPress 3.8 |
| Tested Up To | WordPress 4.9.8 |
| Contributors | jsmoriss |
| License | GPLv3 |
| Tags / Keywords | facebook, pinterest, twitter, linkedin, schema, meta tags, open graph, social sharing, image, like, share, seo, local seo, knowledge graph, rich cards, rich pins, twitter cards, woocommerce, nextgen gallery |
Description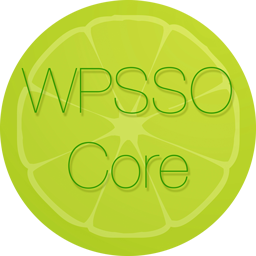 What makes WPSSO Core better?
Uses your existing content for meta tags and Schema markup:
There's no need to manually re-enter descriptions, titles, product information, select images / videos, etc. — WPSSO Core reads all your existing WordPress content automatically, and you can optionally fine-tune and customize just about anything and everything. ;-)
WPSSO Core is language / locale aware, allowing you to customize your site information, social pages and Knowledge Graph for different languages!
Creates complete and accurate meta tags and Schema markup:
WPSSO Core offers meta tags and Schema markup for Facebook / Open Graph, Google's Knowledge Graph and Rich Card SEO, Pinterest Rich Pins, Twitter Cards, Weibo and more — including complete image markup, video markup, extensive eCommerce product markup, author profile / authorship, co-authors, publisher information, local business markup, aggregate ratings, reviews, recipe information, event details, and much, much more — all from your existing content!
Includes advanced quality assurance features and options:
WPSSO Core checks for minimum / maximum image dimensions and aspect ratios, shows notices for missing and required images, verifies webpages for duplicate meta tags, validates theme header templates for correct HTML markup, warns of any missing PHP modules, and checks 3rd party plugin settings for possible conflicts.
Offers special meta tags and features for Pinterest:
WPSSO Core provides a specific image and image dimensions for the Pinterest Pin It button, excludes non-relevant images from being detected by Pinterest, and prevents conflicts between incompatible Pinterest and Facebook meta tag values.
Integrates and improves your favorite SEO plugin:
WPSSO Core specializes in providing all the meta tags and Schema markup social sites and search engines need — and, if you desire, you can continue to use your favorite SEO content / keyword analysis tools without any conflicts! The Pro version even comes with special integration modules for All in One SEO Pack, The SEO Framework, WP Meta SEO, Yoast SEO, and more.
A meta tag and Schema plugin for today and tomorrow:
WPSSO Core is 100% compatible with the upcoming Gutenberg block editor in WordPress 5 (expected in August 2018)!
Users Love the WPSSO Core Plugin
★★★★★ — "The plugin is indispensable to me when it comes to posting on social media... it makes it so that your posts look the best that they possible can every time when posting on Facebook, Twitter, or any other site." - monsuirette
★★★★★ — "What a fantastic plugin. If you want to fix all the errors in search console for structured data, this is the plugin to use. Love it." - goviral
★★★★★ — "I've tried a number of WP SEO platforms and find this to be the most relevant and most completely thought-out platform for maximising web and social search results and presentation. Really impressed. Great support too!" - pixmoto
★★★★★ — "Yoast on steroids! As an SEO marketer, I love using Yoast for my basic on-page SEO. But Yoast only allows you to enter basic Open Graph social settings. This plugin gives you SO many more options on completing the Open Graph for Facebook, Twitter cards, Pinterest etc. If you use WordPress, I totally recommend using this SEO plugin to help with better rankings in the SERPS!" - gregmontag
WPSSO Core Standard Features
WPSSO Core Pro / Additional Features
WPSSO Core Pro gives you the power to further integrate and customize your meta tags and Schema markup with third party plugins and APIs.
Coded for Performance
WPSSO Core makes full use of all available caching methods — along with offering advanced caching features like pre-seeding the cache in background. WPSSO Core and its add-ons use only the library files and object classes they need, keeping their code small, fast and light. All code is fully tested and compatible with the latest version of WordPress and PHP v7.x (PHP v5.4 or better required).
Highly Customizable
WPSSO Core offers hundreds of filter hooks to customize its behavior and output, provides extensive developer documentation with examples, includes dozens of 3rd party integration modules in the Pro version, and offers several optional Free and Pro add-ons to extend WPSSO Core's features.
Installation
Install and Uninstall
Plugin Setup
Frequently Asked Questions
Frequently Asked Questions
Documentation and Notes